[ad_1]

Lionel Messi telling Barcelona that he wants to leave after spending 20 years at the Catalan giants (Messi joined the Barcelona youth academy at the age of 13) sent shockwaves across the football fraternity.
A protracted legal battle is a possibility unless both sides come to some sort of agreement. Messi's release clause is worth an astronomical 700 million Euros, which according to La Liga is still valid. Messi meanwhile has handed in his transfer request. Though every effort is being made to change his mind by Barcelona officials, if Messi decides to go ahead with his decision to leave the club, he will then play for a new club some time or the other.
So which clubs could Mesi and his father Jorge, who is also his agent consider?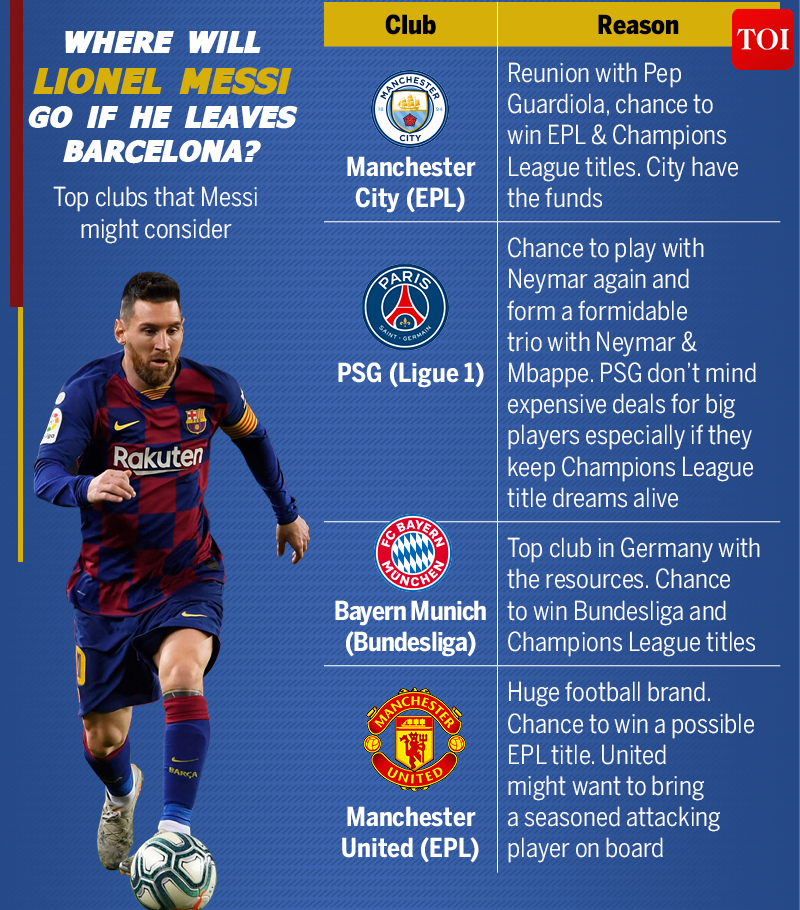 Here are four clubs where you might or might not see Messi next. The truth is Messi at any other club apart from Barcelona is unfathomable, but the end of the Messi era at Barcelona might just be around the corner if there is no compromise reached.
Manchester City (EPL)
The reported frontrunners. It makes sense for Messi to consider a move to England to play for Manchester City mainly because that would mean a reunion with Pep Guardiola. The Messi-Pep combine helped Barcelona win every possible trophy. Guardiola, who in his first season as first team manager won the treble of La Liga, Copa del Rey and Champions League, becoming the youngest manager to win the European title is highly rated by most Barcelona seniors and won a total of 14 trophies in his 4 year stint with the Barcelona first team (2008-2012), which is still a record. It's no secret that Messi and Guardiola get along well and have a lot of respect for each other. A move to City will also give Messi the chance to win potential EPL and Champion League titles. City of course has the funds. However, according to certain reports Guardiola has apparently asked Messi to stay on at Barcelona.
Paris Saint Germain (Ligue 1)
PSG are known to give the nod to expensive signings and deals, especially to keep their dreams of winning their maiden UEFA Champions League title alive. If Messi does go to France and joins PSG it would mean him reuniting with Neymar. The Messi-Neymar-Mbappe trio would be a romantic's dream come true. Messi and Neymar had a successful partnership under Luis Enrique at Barcelona. PSG have the resources, but they also have multiple attacking options on their roster. Also would the goal of winning the Ligue 1 title really motivate Messi? Perhaps the chance to take PSG to the Champions League title, something no star player has managed to do so far could tempt the Argentine.
Bayern Munich (Bundesliga)
Bayern are at the top of their game. They are undoubtedly the top club in Germany and have the resources. If Messi does decide to go to Germany, it's a no brainer that Bayern is the club he will consider. It will give him the chance to win not just the Bundesliga but also the Champions League, something Barcelona hasn't managed to do since 2015. However, Bayern already have some great attacking options like Thomas Muller and Robert Lewandowski, who are both in their 30s. Will they want another attacking option in Messi, who is 33 and then redesign the team? But then can anyone really say no to signing Lionel Messi provided a whole host of other things fall into place?
Manchester United (EPL)
A romantic's choice. Arguably one of the biggest football brands. If not City, Messi might consider going to a club where he will no doubt be the top guy. United might want to bring a seasoned attacking player on board. Signing Messi could give the club the chance to design their strategies around him in their bid to try and win the Premier League for the first time since the 2012-13 season and also of course give Messi the platform to take the Red Devils to newer heights.
Meanwhile, Inter Milan is another club Messi is being linked to and the Italian team do make it to the global bookmakers' list for where Mesi will move to next. However, Inter Milan's Sporting Director Piero Ausilio was recently quoted as saying, "I don't know where some ideas can come from. No coach, no president wouldn't want Messi in their team. But the reality is very different. Our reality is a sensible transfer market."
The Italian transfer window officially opened on Tuesday.
[ad_2]